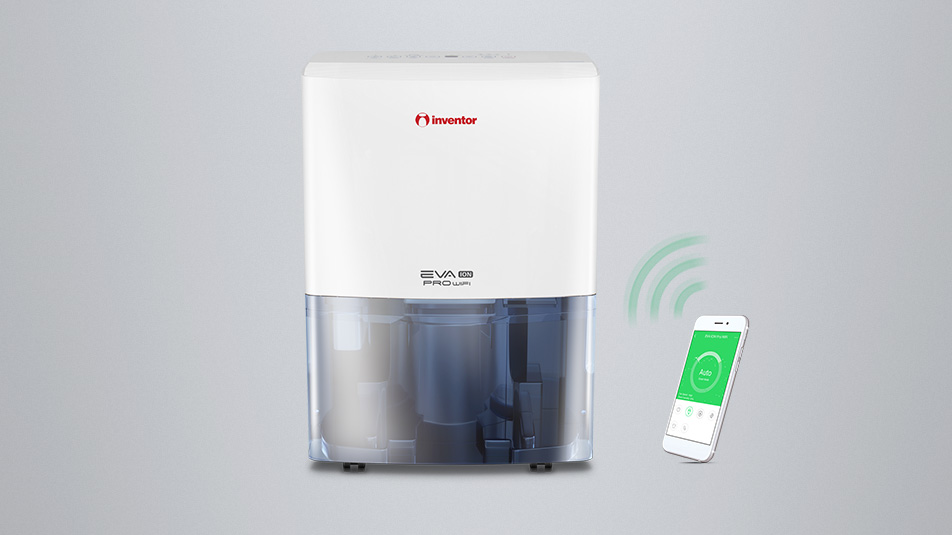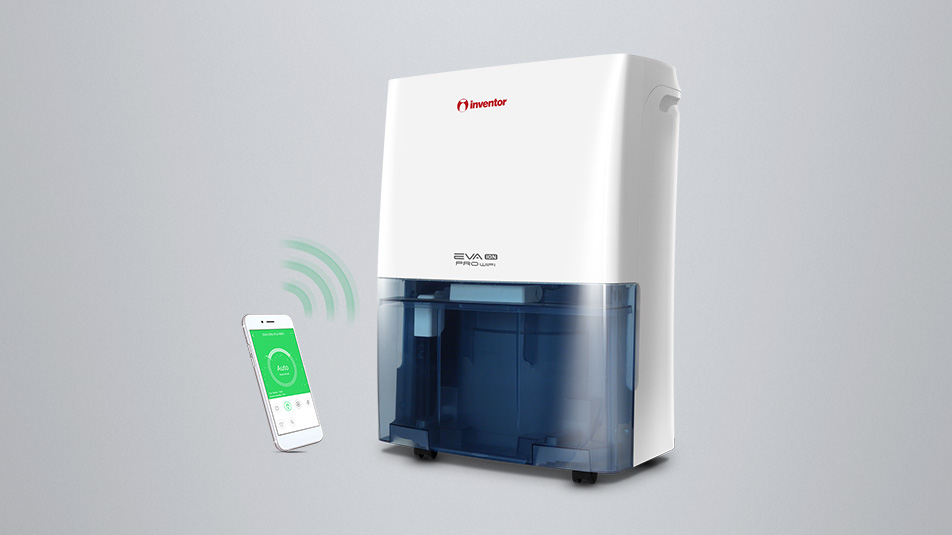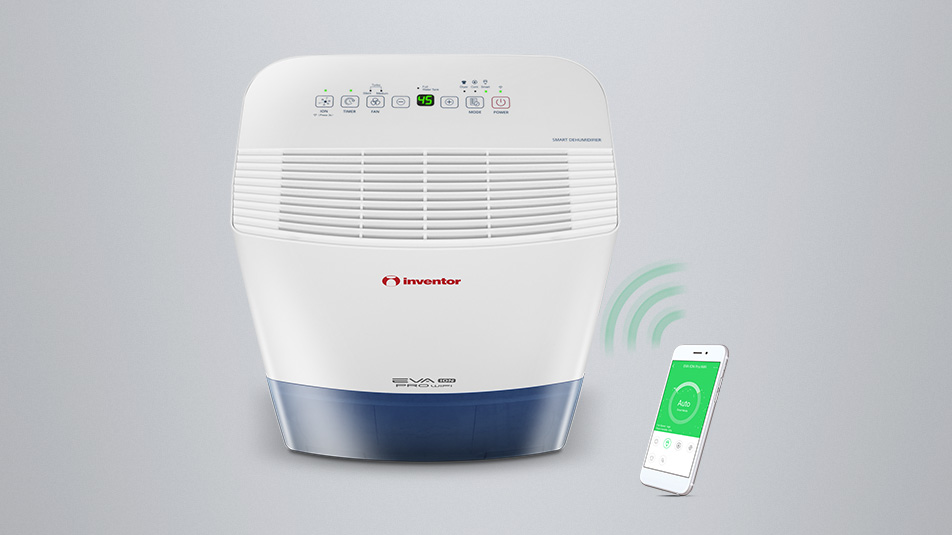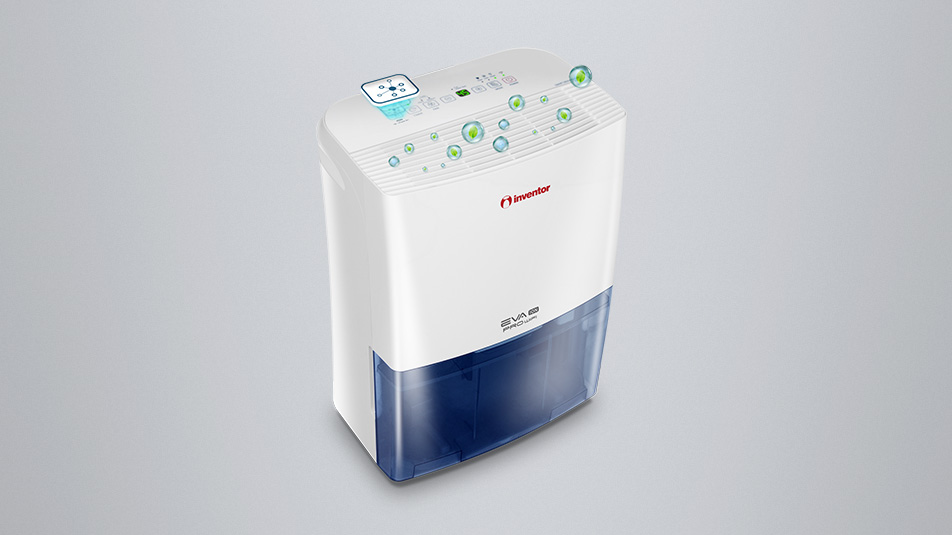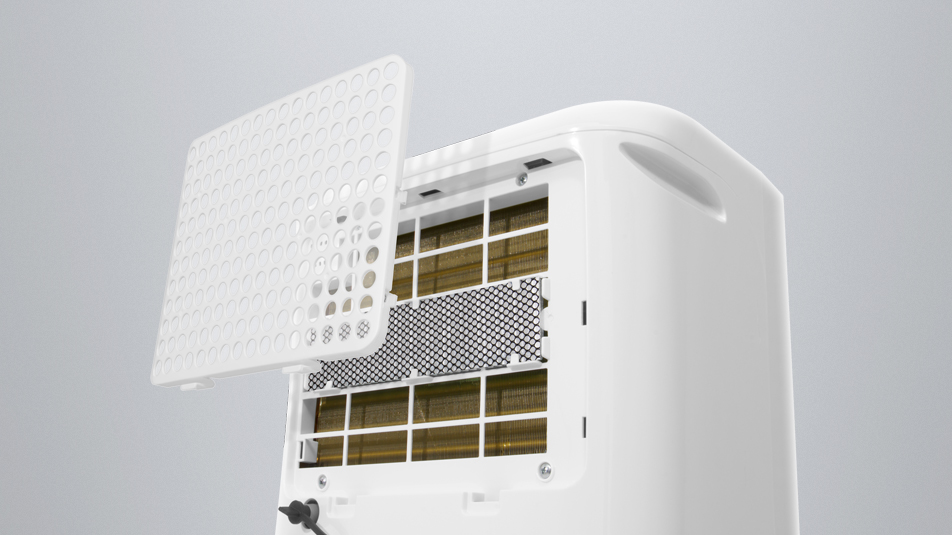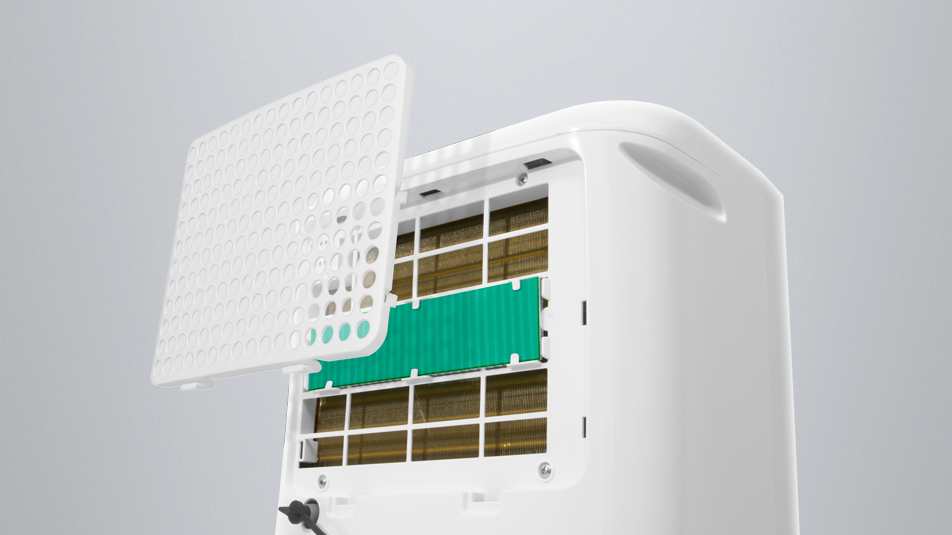 Dehumidifier with integrated Ioniser, a HEPA mini filter and also an Activated Carbon mini filter, for a well-balanced hygienic atmosphere
Integrated ioniser to ensure a healthy & clean atmosphere in your home
Including a HEPA mini-filter and an Activated Carbon mini-filter which may assist in relieving the air from odors, viruses and bacteria
Have absolute control! Smart Wi-Fi for operating your device, remotely, with the use of your smartphone or tablet
Dryer mode for fragrant clothes in periods of high humidity and rain and Smart dehumidification for great energy and money savings
Enjoy low noise levels when conditions demand
Advantages
Clothes Drying
Dry your clothes effectively, with the Dryer operation. Place clothe's horse in a small room (with the door closed) and activate Clothes drying function. The air produced reinforces freshness and ensures dry and fragrant clothes in a short period of time, while maintaining the room completely dry.
Smart Dehumidification
Save money and energy, thanks to Smart dehumidification. The dehumidifier automatically selects ideal moisture levels, according to room temperature, thus ensuring low power consumption and excellent conditions in your space.
24- hour Timer
With the 24- hour timer you can schedule precisely the operational period of your dehumidifier thus avoiding needless use when you 're not at home.
Turbo
Quickly reduce moisture, in extreme humid spaces. The upgraded Turbo mode enhances air extraction, and restores ideal moisture levels, in a short period of time, for a comfortable atmosphere.
Casters for easy mobility
Relocate your dehumidifier wherever and whenever needed. The integrated casters, allow full mobility and the unit may be easily moved and positioned where necessary, for optimal results.
Auto Restart
With the automatic restart function, the dehumidifier not only restarts itself if it is switched off by a power failure or if the plug is accidentally unplugged, but also maintains its previous settings.
Ambient humidity display
The dehumidifier's built-in hygrometer and digital display allow you to view the percentage of humidity in the room at any time.
Tank with water level indication
The semi-transparent water tank allows you to see the water level at all times so you can empty it when necessary.
Full water tank warning alert
When the water tank is full, the full tank indicator lights up on the control panel to warn you.
Overflow protection
Enjoy safe operation of your dehumidifier, thanks to its special integrated overflow protection. When the water tank is full, the dehumidifier automatically switches off and the indication "Full" illuminates, notifying you that the water tank must be emptied, thus preventing any possible unwanted leakage.
More
Continuous Dehumidification
Benefit from Continuous Dehumidification, for immediate results where it is necessary. With continuous dehumidification the device acts as a catalyst in conditions of high demand, such as drying clothes or flooded rooms, eliminating moisture quickly and effectively.
Continuous Drainage
Thanks to Continuous Drainage, you don't have to worry about emptying the water tank. Place the tube at the back of the device and plug it in the siphon. The water accumulated, will directly lead to the drains.
Filter air cleaning
Protect your appliance and ensure a more efficient operation with the air filter specifically designed to capture all dust particles and prevent them from entering the dehumidifier while helping to extend the life of the device.
Smart Defrosting
Ensure maximum performance of the dehumidifier throughout its operation, thanks to the smart defrosting function. In case of ice formation, the compressor will automatically stop working and the fan will continue its operation until it is completely removed.
Auto Error diagnosis
In the event of abnormal operation or component failure, the unit will automatically shut down to protect itself. In the meantime, a protection code or an error message will be displayed to activate its maintenance.
With compressor
Powerful compressor for immediate and efficient dehumidification results.
Compressor protection
The function of the thermal overload protection (motor protection) is precisely to stop the compressor when it gets too hot or when it draws too much current from the power supply line.
Leakage Detection
This new technology detects refrigerant leaks. In the event of a refrigerant leak, EC (error code) will appear on the unit's display.
Dehumidification from 5°C
The dehumidifier can be used in areas with an ambient temperature of 5°C to 35°C.
R290
The latest generation R290 refrigerant ensures both maximum energy efficiency and optimal dehumidifier operation! At the same time, it is extremely environmentally friendly as its potential on global warming is very low while its impact on ozone depletion is zero.
Technical specifications
EP3-WiFi20L

Dehumidification Capacity

20

L / 24 hours

Power consumption
(26.7 ℃ 60% RH) 260

W

Noise level

37

db(A)

Air Output
(High / Medium / Low) 168 / 125 / 99

m³ / h

Water tank

3.0

L

Dimensions
(WxDxH) 350 × 245 × 510

mm

Net weight

14

kg

Refrigerant

R290
Dehumidifier EVA ΙΟΝ Pro Wi-Fi 20L
User manual
Would you like to stay informed about our promotions and new products?
Sign up now using your email to get the latest news from the world of dehumidifiers and more